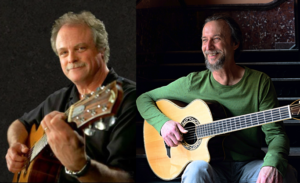 Jerry Kosak and Pat Donohue
11
May
2019
Northfield, MN
Jerry is a recipient of a 2019 Minnesota State Arts Board Artist Initiative Grant.
The focus of this grant is to provide funds for a series of 4 concerts.
Jerry is happy to announce that Pat Donohue (leader of the Guys Shoe All-Star Band from A Prairie Home Companion) will be sharing these concerts with him. Pat is an incredible player, writer, and he's a really funny guy.
This is the 1st of 4 concerts and it promises to be a fantastic evening of fingerstyle guitar, songs, and laughs.
Jerry Kosak is a fiscal year 2019 recipient of an Artist Initiative grant from the Minnesota State Arts Board. This activity is made possible by the voters of Minnesota through a grant from the Minnesota State Arts Board, thanks to a legislative appropriation from the arts and cultural heritage fund.